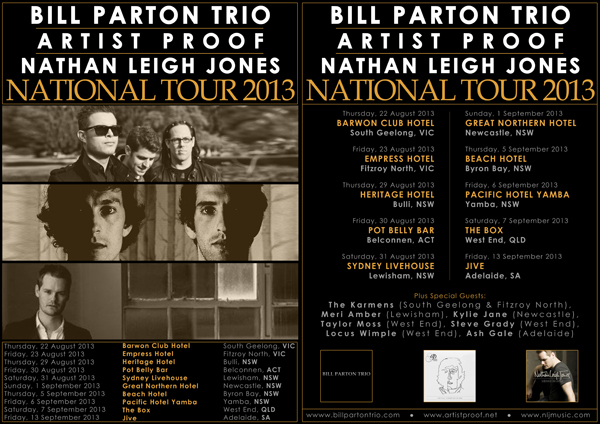 Bill Parton Trio: www.billpartontrio.com
Artist Proof: www.artistproof.net
Nathan Leigh Jones: www.nljmusic.com
Three acts, three entirely different sounds & styles from three different cities. Bill Parton Trio (Adelaide), Artist Proof (Melbourne) and Nathan Leigh Jones (Sydney) join forces to take on a national tour of Australia in August – September 2013.

Despite what could be cited as obvious differences, the acts share strong common passions, namely the love for making music, the love for playing music and the love for sharing their music with the world. In pursuit of the same goal, the three acts share the same, ever so challenging, quest to sustain a life out of doing what they love most…… music.

In the way of local supports, the tour will feature an absolute tonne of immense talent including The Karmens (South Geelong & Fitzroy North), Meri Amber (Lewisham), Kylie Jane (Newcastle), Taylor Moss (West End), Steve Grady (West End), Locus Wimple (West End) and Ash Gale (Adelaide).

Don't miss out!
Thursday, 22 August 2013 | BARWON CLUB HOTEL
509 Moorabool St, South Geelong, VIC 3220 | (03) 5221 4584
www.barwonclub.com.au
w/special guests The Karmens

Friday, 23 August 2013 | EMPRESS HOTEL
714 Nicholson St, Fitzroy North, VIC 3068 | (03) 9482 4604
www.theempresshotel.com.au
w/special guests The Karmens

Thursday, 29 August 2013 | HERITAGE HOTEL
240 Princes Hwy, Bulli, NSW 2516 | (02) 4284 5884
www.heritagehotel.com.au

Friday, 30 August 2013 | POT BELLY BAR
5/26 Weedon Close, Belconnen, ACT 2617 | (02) 6251 4530
www.potbellybar.com.au

Saturday, 31 August 2013 | SYDNEY LIVEHOUSE (LEWISHAM HOTEL)
794 Parramatta Rd, Lewisham, NSW 2049 | (02) 9560 8755
www.lewishamhotel.com.au
Tickets via: www.giggedin.com
w/special guest Meri Amber

Sunday, 1 September 2013 | GREAT NORTHERN HOTEL
89 Scott St, Newcastle, NSW 2300 | (02) 4925 3551
www.thegreatnorthern.com.au
w/special guest Kylie Jane

Thursday, 5 September 2013 | BEACH HOTEL
4-10 Bay St, Byron Bay, NSW 2481 | (02) 6685 6402
www.beachhotel.com.au
w/special guest Taylor Moss
**NOTE: Artist Proof will not be performing @ this show**

Friday, 6 September 2013 | PACIFIC HOTEL YAMBA
18 Pilot St, Yamba, NSW 2464 | (02) 6646 2466
www.pacifichotelyamba.com.au
w/special guest Taylor Moss
**NOTE: Artist Proof will not be performing @ this show**

Saturday, 7 September 2013 | THE BOX
29 Vulture St, West End, QLD 4101 | (07) 3840 5499
www.theboxwestend.com
w/special guests Taylor Moss, Steve Grady & Locus Wimple
**NOTE: Nathan Leigh Jones will not be performing @ this show**

Friday, 13 September 2013 | JIVE
181 Hindley St, Adelaide, SA 5000 | (08) 8211 6683
www.jivevenue.com
w/special guest Ash Gale
For more information, please contact:
Brian McDonald - PR Managerr
P: 0418 604 844
E: brian.mcdonald@rishpublicity.com
Alex Forrest - Assistant PR Coordinator
P: 0406 401 940
E: alex.forrest@rishpublicity.com